Your international property partner
A strong presence internationally
In order to support its international development, the IDEC GROUP has joined up with two British property specialists: the SIMONS GROUP, an end to end service provider, specialising in property development, construction and architecture and BLOC, a London-based developer, with a shareholding in both of these companies. The IDEC GROUP also has a link (ongoing agreement) with ARCHETYPE, a design team based in Asia with its headquarters in Vietnam (Ho Chi Minh). These two operations strengthen the ability of the IDEC GROUP and its partners to intervene in the United Kingdom, around Europe and Asia.
The Group also has a partnership with the KAJIMA company to work with its clients on the continent of North America.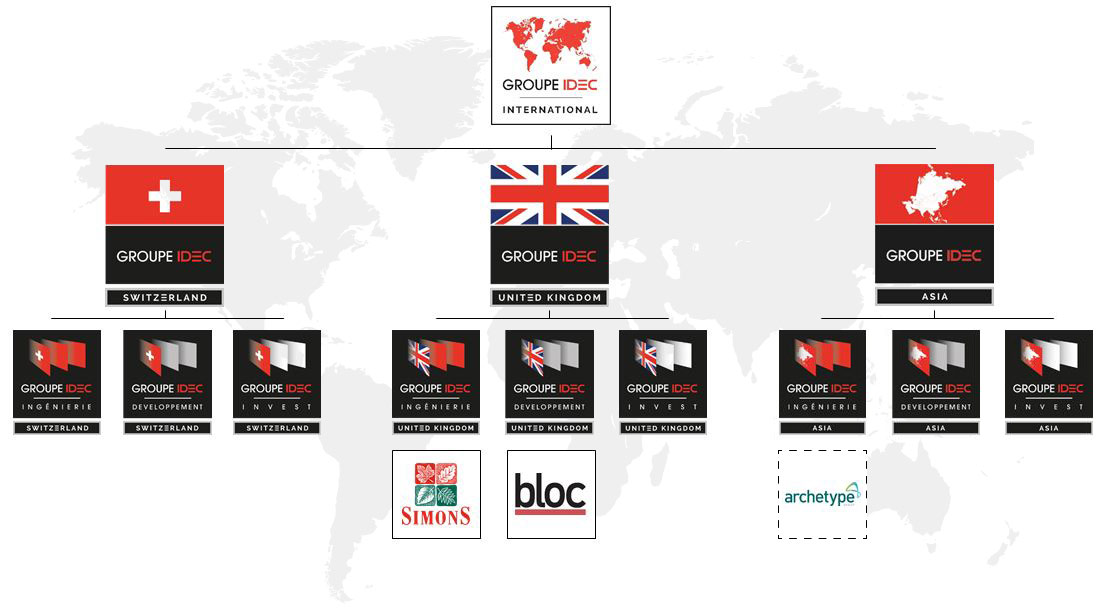 All-round support
The IDEC GROUP relies on its in-house experts and its partners in several regions of the world to plan, develop, finance, design and build all sorts of property projects. Our teams make the most of the know-how they have acquired over almost twenty years in France to build food factories, pharmaceutical and cosmetics premises, logistics platforms, offices and residential property for its clients.
The scope of what we do
Cambodia, China, France, India, Indonesia, Kazakhstan, Laos, Mongolia, Burma, Philippines, Qatar, Singapore, Sri Lanka, Thailand, Vietnam, England, USA, Moldova, Spain, Switzerland. Partnership with the company
KAJIMA USA

Creation of the
IDEC GROUP SWITZERLAND company

Shareholding in
SIMONS (UK) and BLOC (UK)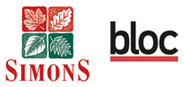 ARCHETYPE GROUP
present in 14 countries


SIMONS GROUP
Created almost seventy years ago, the SIMONS GROUP is a family business, managed by the two sons of the firm's founder, Paul and Philip HODGKINSON. With a staff of 196 and a turnover of 130 million Euros in 2017, the firm has become a reference in its field in Britain. The SIMONS GROUP is built around three types of work: development (retail, housing and office parks), construction (commercial, logistics, health) and architecture (consultancy on the design of projects).

BLOC
Founded in 1997, BLOC works alongside its private and public partners to plan and develop property projects. Thanks to the expertise it has acquired over the last twenty years, the firm is able to design and build property projects across Britain with its clients. BLOC is in particular linked to organisations like the CANAL & RIVER TRUST and NETWORK RAIL to develop land offering high added value opportunities.
ARCHETYPE GROUP
With a staff of more than 1100, ARCHETYPE GROUP is a major property operator in Asia offering architectural, engineering and construction solutions as a project manager. The firm works with its clients in a wide range of sectors, including running projects involving business properties, factories, energy production sites and infrastructures.
Since its creation in 2002, ARCHETYPE GROUP has stood out with the construction of many emblematic operations around the world (a total of 1100 projects have been built). The company is today based in all four corners of the world: Cambodia, China, France, India, Indonesia, Kazakhstan, Laos, Mongolia, Burma, Philippines, Qatar, Singapore, Sri Lanka, Thailand and Vietnam.
KAJIMA USA GROUP
Since its creation in 1840, KAJIMA USA GROUP has been working with its clients on the construction of their property projects. After building its reputation thanks to railway developments and major civil engineering projects, the firm became famous for the construction of skyscrapers and nuclear power stations. KAJIMA USA GROUP also runs property development projects through to their construction.