On Tuesday 5th November, FAUBOURG PROMOTION and SEQUABAT celebrated a new flagship programme in Montpellier (Hérault). This 2963 m² project ideally located in Montpellier once again confirms the know-how of the two subsidiaries of the IDEC GROUP in developing, designing and building turnkey projects.  
UNUSUAL ARCHITECTURE 
FAUBOURG PROMOTION developed offices with some very unusual architecture, offering unique features to the Ammonite building programme. Designed by the architect Yves SIMON, the building benefits from some bold architecture with large glass surfaces and a cantilever fifteen metres above the ground. The space inside offers the occupants a pleasant work area thanks to the central patio and offices that bathe in natural light.
CONSTRUCTION AND INTERIOR DESIGN BY SEQUABAT
After completing the construction of this project, the SEQUABAT company based in Montpellier, which is a subsidiary of the IDEC GROUP and specialises in the design and construction of turnkey projects, worked with some of the future occupants on the interior design and layout of their work areas. That was the case in particular for the premises for the CARSAT covering 850 m² and the Vialla & Dossa law chambers covering 300 m². The architects at SEQUABAT helped their clients personalise their offices to find the best layout possible and making the most of attractive materials and colours.
This joint project with FAUBOURG PROMOTION underlines the cross-divisional work done by the various companies within the IDEC GROUP, who are able to offer all-round solutions to their clients dealing with planning the layout, developing the land and carrying out the building work.
AN IDEAL LOCATION

At the entrance to the Odysseum Park, the Ammonite building is in the heart of Montpellier. The location of this property is without doubt one of its major assets thanks to a clear outlook. This thriving district which is currently undergoing changes takes advantage of exceptional public and private transport links: tram, motorway, Montpellier Airport and the new high-speed train station.
AROUND A HUNDRED PEOPLE GOT TOGETHER FOR THE INAUGURATION OF THIS PROJECT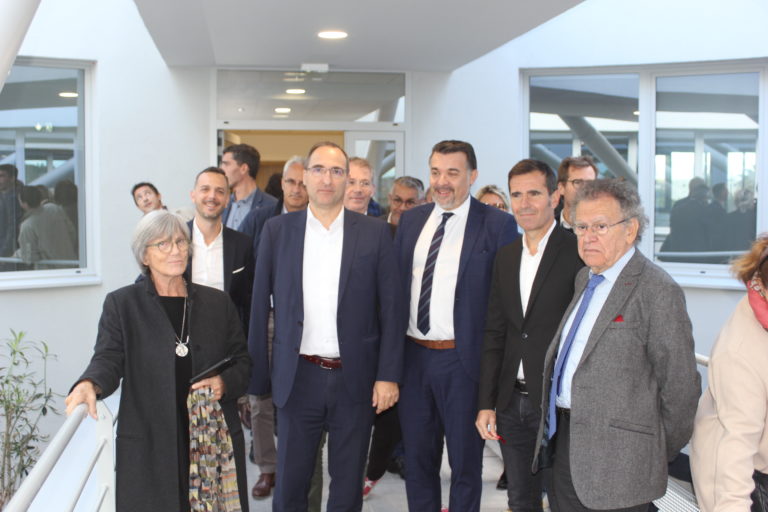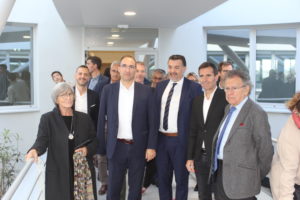 The AMMONITE building was inaugurated on Tuesday 5th November in the presence of all the stakeholders, including FAUBOURG PROMOTION, the developer and planner within the IDEC Group and SEQUABAT, which specialises in the design and construction of business and residential property. Public bodies were also represented confirming their interest in the bold design choices. Among those present, Chantal MARION, City Councillor in Montpellier and Vice-president of the Montpellier Mediterranean Urban Council, Max LEVITA, President of the SERM and Vice-President of the Montpellier Mediterranean Urban Council and Yves SIMON Architect with the ZUO agency.