The IDEC GROUP and INSA Rennes signed an agreement on Monday 20th January to facilitate the access of students to the world of business. This announcement accompanied by the sponsorship of the Civil Engineering course was made in front of 80 students, the directors of the IDEC GROUP and the Director of INSA.
A strong partnership
The IDEC GROUP, all-round property company, which works on planning, developing, investing in, designing, building and working on the environment throughout France and INSA Rennes, a network of engineering schools with seven establishments across France signed a partnership aiming to improve the relationship between the school and firms and more generally to facilitate the insertion of students into the world of work.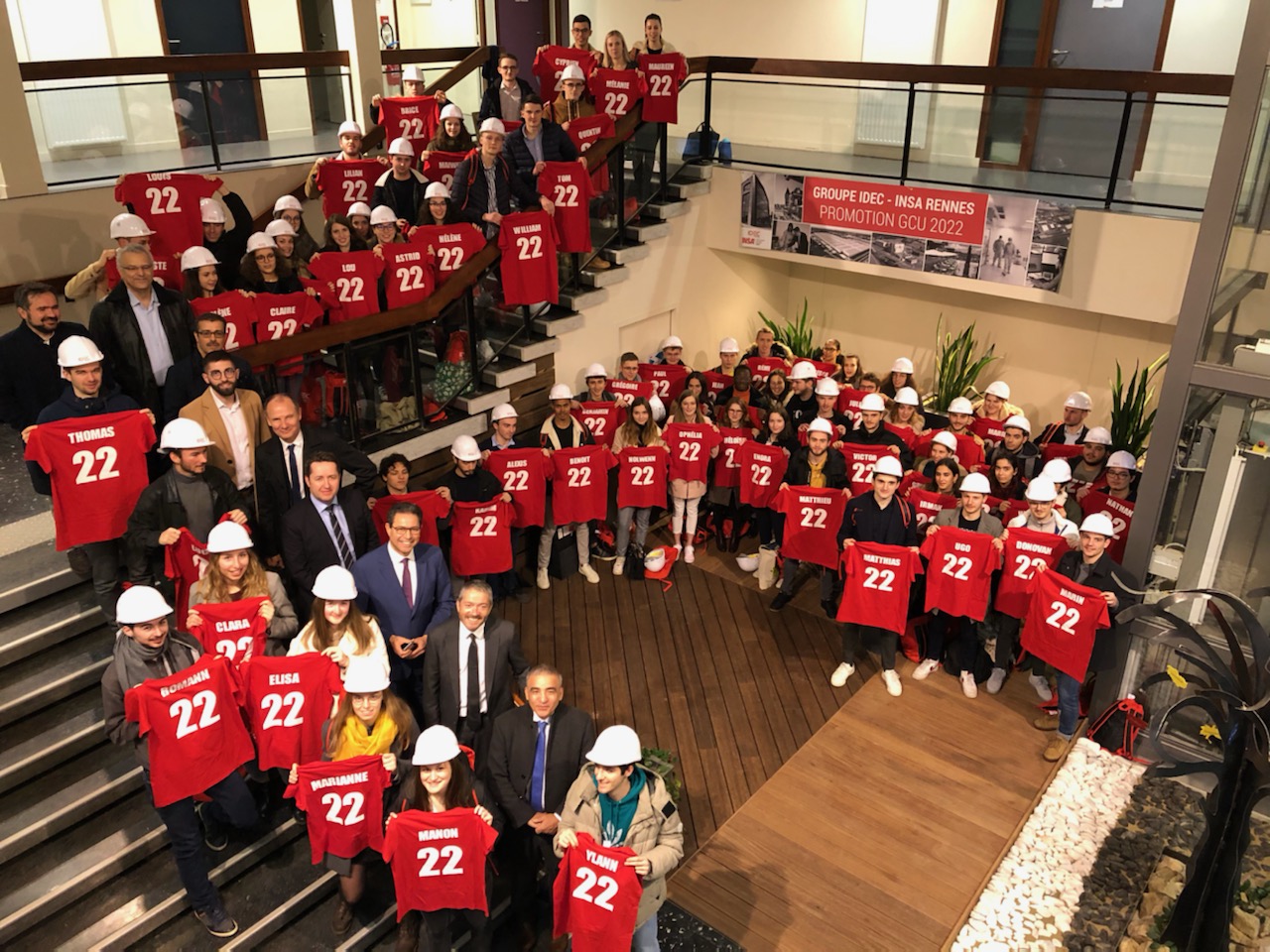 Measures to improve the relationship between the school and business
With the sponsorship of the 2022 Civil Engineering course at INSA in Rennes by the IDEC GROUP, both parties wanted to enhance the integration of students and graduates in the professional world. Measures include working on training periods and sandwich courses, but also on the hiring of new talent at the end of their studies.
Several concrete measures
To achieve these goals, INSA Rennes and the IDEC GROUP will be launching several important measures in the coming weeks, starting with visits to some of the flagship building projects being built by the IDEC GROUP with all of the students in the course they are sponsoring. Several members of staff from the Group will present their work at various seminars. Conferences on building work will also be organised to encourage the development of links between the business and students.
80 students came together for a presentation of the IDEC GROUP
This sponsorship was sealed with a major event bringing together 80 students for a presentation of the IDEC GROUP, followed by the official signing of the partnership. The team of directors from the firm and in particular, the founding President, Patrice LAFARGUE, some of the Directors, including Adel KADDOUR, Associate Director of the IDEC GROUP and former student at INSA and representatives from the HR service were also present. INSA Rennes was represented by its Director, Mr DRISSI and members of the teaching staff.
Join a group of enthusiasts
Planner, developer, designer, builder and investor, The IDEC GROUP as been through a period of steady growth and offers an unparalleled range of jobs. Bring along your skills and energy! The IDEC GROUP is hiring. Find out about our job offers.